OK guys I know you have all seen my crazy VAGUE tweets on twitter about this AWESOME giveaway that is going down this month....well the time has come to give you some details. But FIRST lets talk about the goodies you could win by completing this task I will be giving you ;-)
Prize #1:
This lovely stack of 2014 January ARCs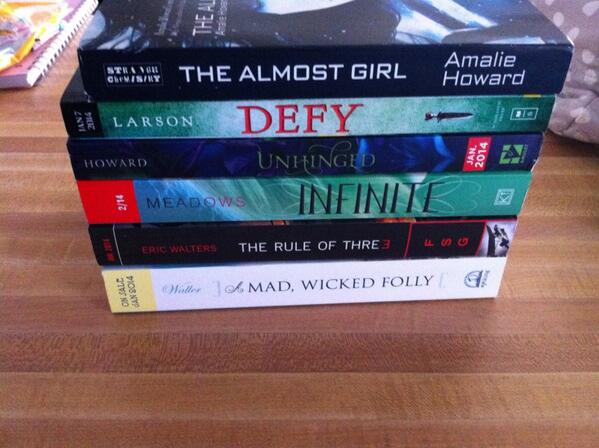 AWESOME right???
Prize #2:
This lovely stack Erin Albert has so kindly donated! (Lullaby is signed)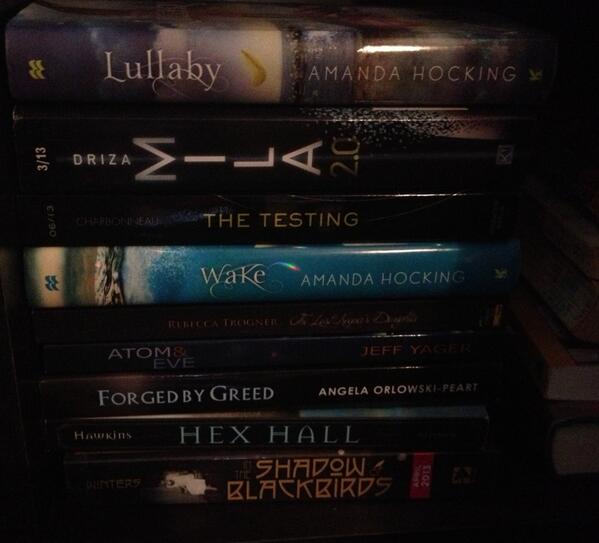 There are some AMAZING prizes there :-)
Now while shipping costs are INSANE for shipping outside of the US me and Erin do NOT want to leave you Canada/INTL people out SOOOO we offer those winners a $50 bookish gift card....see we love y'all ♥♥
So now that we know what awesomeness is up for grabs lets get down to the details. I got the chance to read this AMAZING YA High Fantasy in 2013...I mean it is PERFECTION. Everyone that I know that has read it has agreed and fallen completely in love with it. Christina over at
Ensconced in Lit
loved it so much she got with Erin to give away FIFTEEN copies of it on her blog these past 2 weeks.
Let's introduce everyone to THE PROPHECY who hasn't heard of it shall we?
Growing up on a small farm in the kingdom of Vanguard, seventeen-year-old Layla Givens lives a deceptively tranquil existence. But her carefully constructed life quickly falls apart when she's abducted by a religious zealot who proclaims her The Fulfillment of an ancient peace prophecy and whisks her away to marry her greatest enemy.
Wilhelm, Prince of the Ethereals, is reluctant to meet his new bride. He's grown up believing Vanguards are evil, an enemy to fight and fear...not love. Can he set aside his prejudices and work alongside Layla to bring lasting peace after centuries of war?
Nash, a loner who has never fit in, carries a huge secret, one big enough to destroy both kingdoms. When he accidently meets Layla, he's no longer content to live in the shadows, but he must resist his growing attraction—for her safety and for the longevity of the two kingdoms.
When Nash's secret is revealed, a firestorm sweeps through both realms, with Layla at the center. Now she must choose between duty and desire while the fate of two nations hangs in the balance.
It seriously is as awesome as it sounds. SERIOUSLY. It's hard to believe that it is Erin's debut novel.
So what we are challenging you to do is READ AND WRITE A REVIEW for THE PROPHECY by Erin Albert before the end of January. Yes, really, that's it. Really it's a win, win for you. You get to spend time winning a spectacular book and you may get some kick butt prizes because of it. To top it off the book is inexpensive. It is NOT in print so you can only do e-book but it only runs for $4.76 on Amazon. I mean that's less than $5...can't beat that. It is also on B&N, Kobo, Smashwords. Now after you do a review you will be able to get tons of other entries but the main goal is get reviews.
SO THERE IS MY TASK FOR YOU! Are you ready to accept it?
Rules for contest:
-All entries are checked, if any are dishonest you will be disqualified
-Must be 13 yr or older to enter
-You do NOT have to be a blogger to enter this contest
-First winner picked will get to choose which Prize Stack they want, then the second winner will get the other, unless they are INTL
Starts at midnight on Jan 1, ends at midnight Jan 31.
GOOD LUCK, if you have any questions please let me know :)
a Rafflecopter giveaway